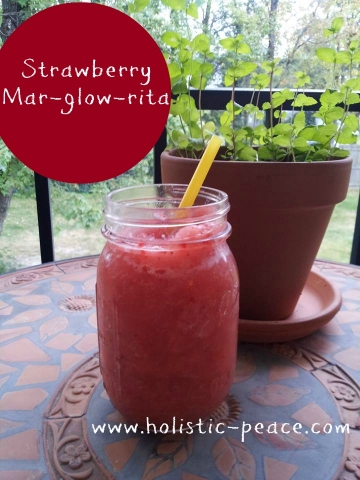 'Tis the season for warm beaches, hot sun, and frozen fruity drinks!
Let's talk about strawberries. Did you know they can have a tranquilizing effect? That's why surgical gloves and masks for children's anesthesia are often perfumed with a strawberry scent. Who knew?!? Maybe that's why an ice cold strawberry margarita sounds soooo appealing after a long, hot day. Better yet, maybe that's why
this
recipe hits the spot even without tequila!
Other bonuses? They are loaded with Vitamin A, C, and some B-complex vitamins. They work wonders while flushing excess toxins out of the liver, kidneys, lung, stomach, and spleen.
Yep! With all of those vitamins, strawberries are just another food to help us glow from the inside out.
Strawberry Mar-Glow-Rita
Here's what you need:
2T Raw Apple Cider Vinegar
1T Lime Juice
1 tsp Ginger
8-10 Strawberries
1c Water, amount depends on desired consistency
1-2c Ice, amount depends on desired consistency (I used frozen strawberries and less ice)
8-10 drops of liquid stevia (optional)
Tequila, optional and to taste (depending on how hard your day was!)
Work your magic:
Throw everything into a blender and let it work its magic! Pour into your choice of glass, mug, etc. Sit back and dream of sun, surf, and sand.
*This recipe is flexible. Toss in a frozen banana or swap the strawberries for your favorite fruity flavor. The choice is yours!