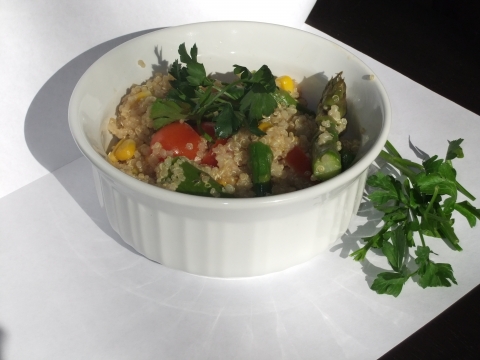 April showers bring May flowers, right? Well, sometimes April showers continue through May and early June. Although spring is a time of new beginnings, hope, renewal, and detoxification, the rainy days can also trigger feelings of sadness and depression. I'll be honest, I know that our weather pales in comparison to what has been going on in Oklahoma and Texas, but all of the dreary rain is still getting to me (this is probably one of the reasons I dream of sunny islands, palm trees, and coconuts...note: these are not things typically found in NJ!)
There is no better way to beat the "rainy-day blues" than through the healing power of nature's own medicine, food. Let's break it down by ingredients, shall we?
Asparagus is packed with Vitamin B6 which is known to boost serotonin levels. It's also an excellent source of potassium which, when properly balanced with sodium, is a key component in mood stabilization.
Tomatoes are a source of lycopene, a fat-soluble phytonutrient that helps protect vital brain fat and has been known to stop the buildup of pro-inflammatory compounds linked to depression.
Lemons are loaded with Vitamin C, which has been known to ease fatigue, loss of appetite and other effects of depression.
Quinoa is a grain-like seed that has small amounts of the right type of high-protein carbohydrates needed to boost your serotonin levels. Plus, it provides additional B vitamins that are critical to brain health and in the manufacturing of all neurotransmitters, including serotonin.
Walnuts are essentially mood "superfoods". They are filled with Omega-3 fatty acids, antioxidants, vitamin E, vitamin B6, folate, and protein. Consider that combination to be a powerful punch of "Happy"!
Here's a quick and easy recipe filled with all of these ingredients that are sure to keep the rainy-day blues away!
Lemon-Dijon Quinoa & Asparagus Salad
1 lb asparagus, cut into 1 in pieces
1 c quinoa
1 c corn
1 c grape tomatoes, halved
½ c chopped parsley
¼ c chopped walnuts, garnish
Quinoa:
1 c dry quinoa
1/2 tsp sea salt
2 c water
Lemon-Dijon Dressing
1/4 c Water
1/4 c Dijon Mustard
3 T Fresh Lemon Juice
1.5 T Extra Virgin Olive Oil
2 Garlic Cloves, Minced
Black Pepper, to taste
Rinse and drain quinoa. Place quinoa, water and sea salt in a pot and bring to a boil. Reduce heat, cover and simmer for 15-20 minutes.
Snap off the tough ends of the asparagus & cut into 1 inch pieces. Place the trimmed asparagus in a large pot of boiling water. Cook for 9-12 minutes or until almost tender. Drain and rinse under cold water.
Add dressing ingredients into a bowl. Whisk until they are thoroughly blended.
In a large bowl, mix prepared quinoa and asparagus with corn, tomatoes, and parsley. Add dressing and stir gently until it is mixed through the salad. Add chopped walnuts as a garnish.